The versatile functionality of room dividers and screens is limitless.  Ideal for creating smaller, more personal spaces in a loft-style apartment or a home with an open floor plan, room dividers and screens are tools in molding your room's atmosphere.  Here are a few great ways to make the most out of your space and enhance your design with these room dividers and screens!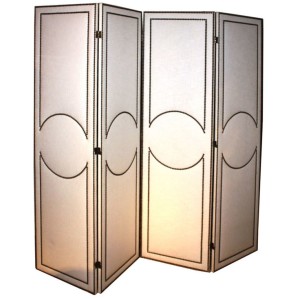 The most obvious  use for your room divider is to give privacy as an impromptu changing space!  This Art-Deco Style Custom 4-Panel Screen is so elegant and classic, that it would work perfectly in a guest bedroom.
Add intrigue to your sitting room with an elegant mirrored room divider!  These vintage mirrored art deco room dividers from 1st Dibs make for fabulous backdrops.  The first screen, a Four Paneled Antique Chevron Designed Mirrored Screen, has a fantastic chevron print, and the Glamorous Art Deco Skyscraper Mirrored Screen (second screen shown) adds variation in height to your room.
A screen is a great way to decrease the light coming in from the windows, as well as add a sense of privacy to any bedroom!  This Jakun Rosewood Shoji 4 Panel Room Divider from Hayneedle has a great traditional Asian-inspired look.
Decorative Crafts' hand-painted Chinoiserie screens are simply luxurious; the silverleaf background of the second screen shown is eye-catching and lovely.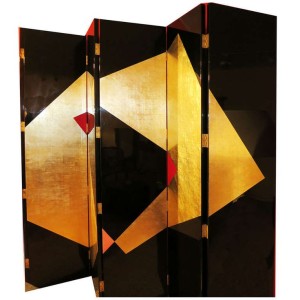 Do you have an in-home bar?  Add a vintage feel to your space with this Six-Panel Large Art Deco Lacquered Screen from 1st Dibs!
View my "Room Dividers and Screens" Pinterest board here for more of my favorite picks!