The real experience of dining out combines both the food and environment.  Here are 5 restaurant dining rooms I love that add ambiance to a perfect meal!
1. Les Haras (France), Interior Design by Jouin Manku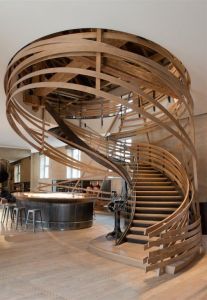 The scrolling staircase in Les Haras is a show stopper.  This staircase teeters on being a piece of functional art, drawing your eye at first glance.  The tonal values of the interior are neutral and timeless, giving the environment a chic, artistic vibe.
2. The Blue Fin Restaurant (New York), Interior Design by Yabu Pushellberg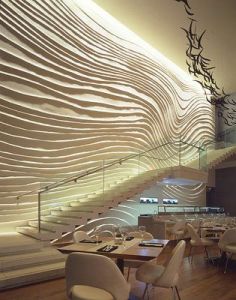 Go ahead, gawk at the undulating textured wall of The Blue Fin Restaurant in New York; it's amazing!  Reminiscent of sand patterns at the beach, The Blue Fin Restaurant's interior designer, Yabu Pushellberg gives the room a personality.  Other things to note include the smart lighting worked into the wall design, and 3-D details such as the swooping black birds over the neutral furniture.
3.  A Cantina (Galacia, Spain), Interior Design by Esuido Nomada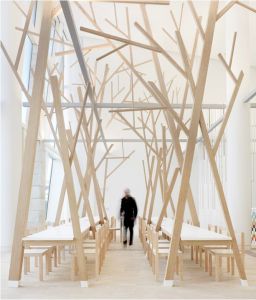 Interesting, graphic, and dramatic, A Cantina's interior design incorporates a strategic display of woodwork to create a whimsical room!  The beams of wood reach from the ceiling to the floor, working into the table legs.  I love the branch-like accompaniments reaching out, off the top of the wood beams!
4.  Cecconi's (Miami, Florida), Interior Design by Martin Brudnizki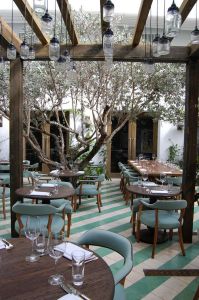 Miami's restaurant, Cecconi's has constructed an ethereal environment like no other.  Elegant table settings juxtapose with dreamy mason jar-lighting, and actual trees are worked seamlessly into the room's furniture layout.  Martin Brudnizki's blend of indoor and outdoor elements is seamless.
5.  The Inn at Pound Ridge (Claremont, WA), Interior Designed by Thomas Juul- Hansen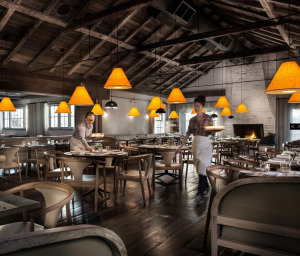 Last but not least is The Inn at Pound Ridge by Jean-Georges, located in Pound Ridge, New York!  I have had dinner at The Inn at Pound Ridge several times, and love the fresh farm-to-table cuisine.  What sets this restaurant apart is the transformation it has undergone, from a residence, to an inn!  The upstairs is chic and incorporates clean lines, while the downstairs is warm and cozy; the Inn at Pound Ridge is truly the ideal casual yet elegant dining experience!