I went to the Architectural Digest – Home Design Show at the Pier yesterday in NYC with my friend Mindy Gerhardt, the showroom manager of Decorative Crafts in Greenwich, CT.  The show had lots of interesting things – some of the new offerings by the appliance vendors were pretty amazing.
My favorite part was DIFFA's Dining by Design.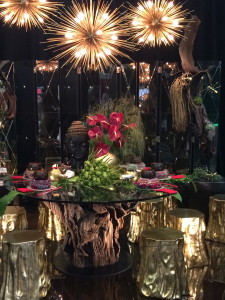 And my favorite Dining Scenario was the one by Arteriors – I loved the dark glamour of the table setting – I imagine dining there would be like being transported to an enchanted forest.
Here are some others —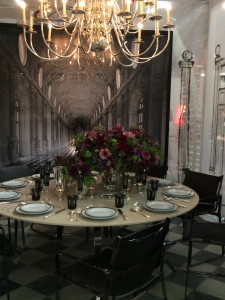 The above from Luxe Magazine is so glamourous and sophisticated – and just love those ladies who work for Luxe – a  shout out to them – they are always so gracious to work with!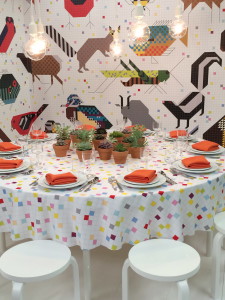 This was another fun setting – it has a child like quality and at the same time a very sophisticated European feeling – I am imagining a European kitchen or a charming child's birthday party!
Last – I adored the Dina Von Furstenberg table setting – It had that vibrant decadent party theme! Having a party on the beach in that setting would make a summer night complete!
Mindy and I saw lots of friends and met some new ones along the way! If you are thinking of remodeling or decorating definitely spend an afternoon at the show!