Today I am making the case for baskets as a means of organized design.  Where should you put the hand towels and fresh soap in the guest bathroom?  A basket.  Is your kitchen too cluttered?  You probably need shelving, or in this article, a basket.  Is your baking rack missing something?  I think you know what it's missing:  a basket.
Basket Styles
From rustic to structured, baskets come in many shapes and styles.  Choosing one for your design is a personal decision.  Is your room too strict?  Balance it out with an elegant, yet earthy basket, perhaps made out of bamboo.
Does your basket serve a specific purpose, or is it strictly ornamental?  This comes into play when deciding how sturdy of a material you need.  For example, when selecting a laundry basket for a bedroom, a sturdy basket with a liner is probably best.
Kitchen Storage
A spare basket (or two, or three . . .) in the kitchen is extremely useful.  Gather vine-fresh tomatoes from the garden or keep the silverware for your outdoor party neat and organized with a basket.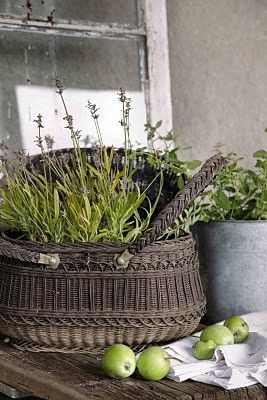 Is your design looking a little sparse?  Does your new hutch have too much empty space?  A pop of greenery and a natural basket are great, cost-effective ways to enhance your design.  These French baskets create an elegantly rustic feel, when gathered together in a vignette!
Living Room Design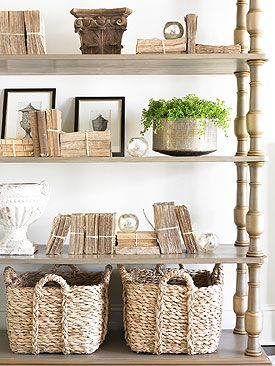 Keep toys off the floor and remotes in their designated areas with baskets!  Interior design doesn't have to be expensive, just smart.  This re-purposed bookcase gives a blank white wall a sense of identity, while featuring functional components.
Garden Baskets
An ordinary plastic planter is evolved when placed inside of a beautiful basket.  The flowers you have cared for are now given a completely personal touch, and are now neatly incorporated into your patio design!
For more great ways to update your interior design with baskets, view my Pinterest board here.