New York's largest private, non-profit service organization, ArtsWestchester, is Westchester Countys' designated arts council.  Established in 1965, ArtsWestchester has been supporting cultural organizations and artist residencies as well as connecting the community with art ever since.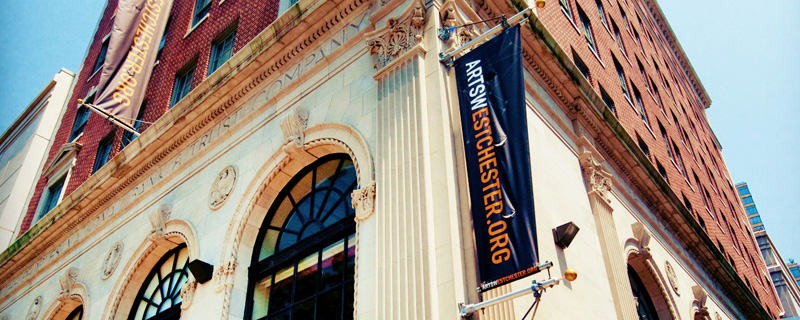 Renovation & Repurposing
ArtsWestchester is housed in the Old Landmark bank building at the center of White Plains.  The building has been repurposed to hold the offices of ArtsWestchester as well as a gallery and various artist studios.  Janet Langsam, the Chief Executive of ArtsWestchester reached out to me requesting that I assist in refreshing the spaces.  We discussed infusing the space with lighting and color.  I was delighted to help and take on this project as I remember walking to that bank with my mother and grandmother many times when I was a young child.
The Front Lobby
The front lobby is gorgeous old marble with an ornately carved and restored ceiling.  Since ArtsWestchester is such an important part of the contemporary landscape, I felt we should use very modern gilded fixtures.  
I selected the Zanadoo Fixtures from Arteriors; these fixtures are both modern and classic at the same time and gave the lobby just the right amount of sparkle.
For the sconces I used the Parker Sconces by Jonatahn Adler in Antique Natural Brass.
Upstairs Lighting & Design
The ArtsWestchester offices are housed on the second floor of the building.  When discussing the layout of the design, Janet and I concluded that we wanted to have an impact on visitors once they stepped off the elevator.
We selected a deep raspberry color and highlighted it with Robert Abbey's Anemone light fixtures in chrome.  The beautiful light patterns on the ceiling give off a great design element!
The Conference Room
And finally, the Conference Room of the ArtsWestchester.  The conference room table was refinished and the paint refreshed with a tranquil pink, white and new crisp sunscreens.  We wanted ideas that burst around that table to truly spark creativity!   Three great Sputnick fixtures were custom made for the conference room in California, which we hung along with a new painting by an artist affiliated with ArtsWestchester.