Cami Weinstein Interior Design, LLC:  Chappaqua Living Room Details
Recently I completed a living room design for a client located in Chappaqua, New York.  The living room features a transitional style, incorporating beautiful elements of design while remaining family-friendly.
Lifestyle & Design Goal
The client has four adorable young children and a lively dog, and wanted her living room to be functional and welcoming.  Our goal was to create a living room that was inviting and loved versus a room that would just be used to pass through on the way to the home office.
Living Room Furniture
Selecting furniture for your living room design is a balance; ideally the furniture is classic to withstand design trends for the next few years while also being comfortable and inviting.  The client and I decided to opt for custom furniture for her Chappaqua living room design.  The circular custom sofa would comfortably fit the entire family, while maintaining a traditional and modern vibe.
The side table holding fresh flowers is by Pearson, and the coffee table in the center of the room is from Chaddock Home.  We added a custom terrarium for a natural touch, which fit perfectly.
Living Room Details
Opting for a soft color palette provided the room with an easy sophistication.  The departure point was the fabulous Ikat from Duralee which we used for the window treatments.
A hard-wearing area rug was a must for a living room with four young children and a dog!  We selected a custom-sized area rug from Carpet Trends in Rye, New York, which complimented the rest of the design perfectly.
Enter Phillip Jefferies grasscloth to add glimmer to the back wall of the new built-in's to compliment the newly re-gilded antique sconces and voila!  Every design needs a touch of glimmer.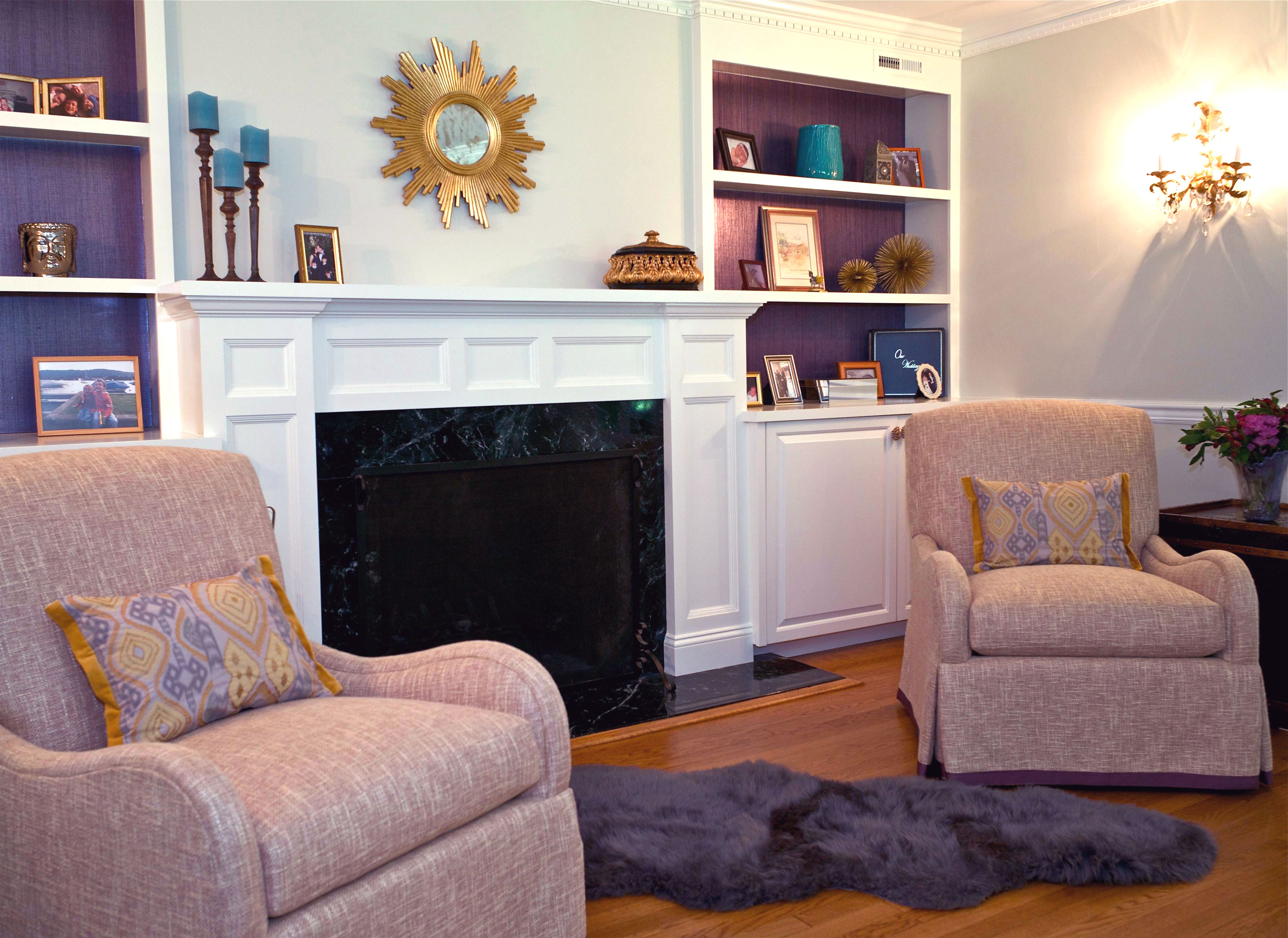 To view more images from my Chappaqua Living Room project, click here.