Fashion Forward Vanities! Bathroom vanities make prepping for your day (or evening) an experience with any of these vanities; give yourself the star treatment with these lavish bathroom vanities!  Which of these bathroom vanities gives you design inspiration?
If you love detailed woodwork . . .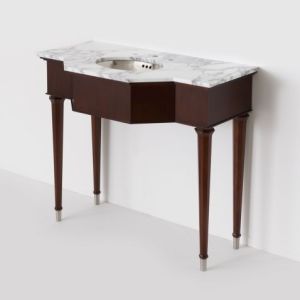 Take a que from the beautiful Four- Leg Single Washstand from Waterworks, and give your bathroom a touch of elegant French inspiration!  The exemplary wood detailing in the octagonal shape adds a classic elegance to this piece.  The marble-slab top is sold separately, which makes the design options limitless!
If you need a glamorous statement piece . . .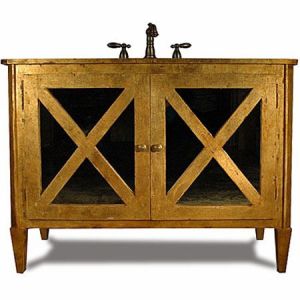 The Abilene Sink Base from J. Tribble is so chic – yet classic!  Give your bathroom a Gatsby-style theme complete with ornate accessories and plush towels, or keep the rest of your details understated to focus on this amazing sink base!
Only want a touch of glamor . . .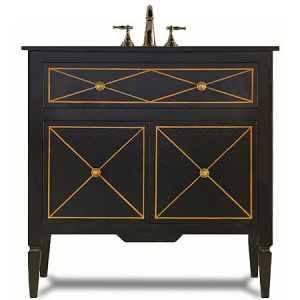 Try working the Valentino Sink Base from J. Tribble into your powder room or bathroom design for a polished look!  The gold accents make a glam statement without being too loud.  What type of hardware would you pair with J. Tribble's Valentino Sink Base?
 If you desire a Hollywood feeling ….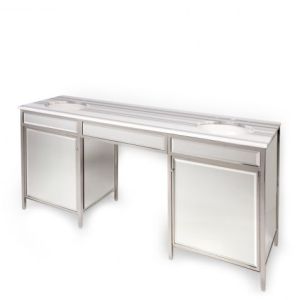 Keep your design timeless with this Henry Double Metal/Mirror Vanity from Waterworks!  The Henry Double Metal/Mirror Vanity combines elements of art and industry, for a sleek and purposeful piece of furniture.  Reflect your design with this gorgeous mirrored vanity; I love the double-sink option, and spacious counter! Add some crystal accessories to add even more glamour!
If your design demands a new kind of modern . . .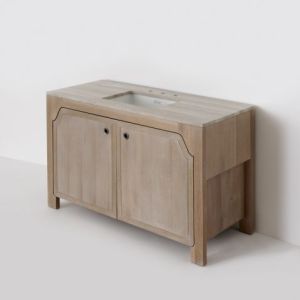 The Walcourt Double Wood Vanity is made by hand, by a master cabinet maker in the U.S., ensuring the finest quality craftsmanship as well as longevity to your design!  I love the conversion varnish used on this piece, as it ensures 100% water protection (which is vital in a wood piece)!