With so many dining chairs to choose from, the options are endless!  Assemble your dining chairs around one of last week's featured dining room tables, or use these chairs non-traditionally around your home!
Welcome your guests to an opulent dining experience!  Nancy Corzine's 1141 Millar chair features an Antique English Walnut finish, Florence leather, and Coffee colorway.
The Elise Figure Eight Side Chair from Mecox Gardens shown with an Echo Umber Leather can be ordered with a variety of back designs, and other fabrics.  Add a traditional element to your room with this classic shape and luxurious upholstery.
If leather upholstery is a little too much for your taste, brighten up your dining room with Wisteria's Chateau Dining Chair in French Blue.  Wisteria's Chateau Dining Chairs fuse together the simplicity of Louis XVI furniture with the charm of a weathered oak finish.  I love the idea of mixing and matching these Chateau Dining Chairs in Wisteria's five custom colors.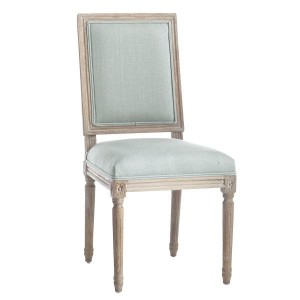 These leather chairs from Nancy Corzine feature gold hand-painted details; how fabulous!
Serena & Lily's Riviera Side Chair is a re-designed classic 1930's European Bistro Chair, perfect for a beach house or casual kitchen!  The attention to detail in these handcrafted chairs is remarkable.
Draw contemporary design elements into your dining room with Horchow's Erlinda Dining Table Chairs!  Play up the golden-yellow houndstooth detailing on the backs of the chairs or let them speak for themselves!