Who doesn't love pink? It seems we all have love on our minds during the month of February, and what better color to evoke romantic feelings than pink? There are so many ways to incorporate pink into a space, whether you want to go all out or just add a hint of color here and there. Below are some of my favorite examples of how this pretty shade can enhance almost any room in your home.
The meaning of pink can be used to emanate feelings of compassion, caring, understanding, and, what else but, love and romance. It can be a pure and innocent color, and in turn, very positive. Hence, it can benefit your life by generating positive emotions, love, compassion and happiness.
A well placed accessory can bring a new elegance to your design. Pink is a great choice for an accent color. It adds a feminine touch and a blush of happiness. This color often has a calming effect on people, suggesting safety and vulnerability. Use bright pinks for a playful, exciting atmosphere or more vibrant pinks for a passionate, sensual feel. The pink spectrum has so much potential!
The most common pink color used in feng shui decorating is a gentle pink, although the "hot version" of it, the magenta pink, is also very popular. Combined with orange, also a fire feng shui element color, it can bring a fiery and passionate energy to any space.
Pink helps people get in touch with their thoughtful and caring side, either through the need to receive, give or care for others. Using pink in the bathroom may offer a little extra space for mental reflection.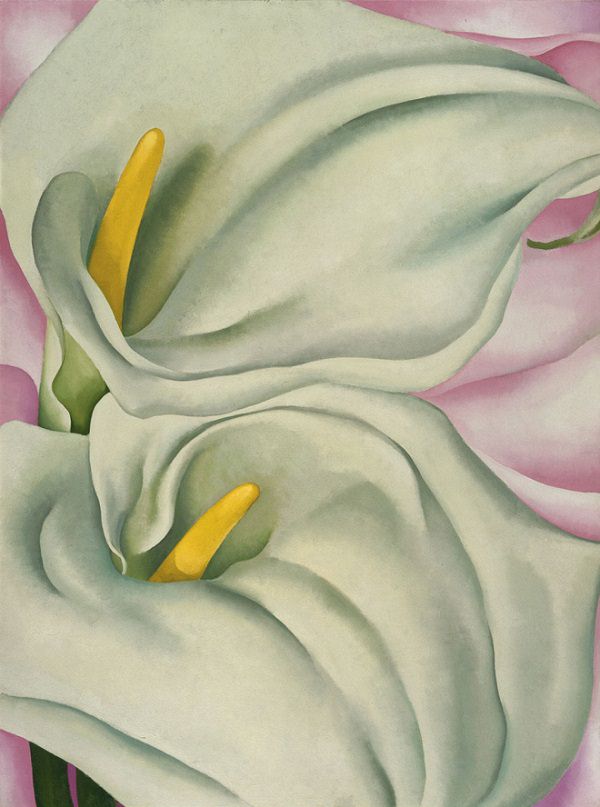 Painting by Georgia O'Keeffe
For more pink inspiration, visit my Pinterest board: https://www.pinterest.com/camidesigns/who-doesnt-love-pink/