Floor Lamps not only provide light they create height, and visual interest in a room!  Choosing a piece that melds well into your room's design plan is an opportunity to add a practical statement piece you can admire.  Here are a few fun and functional pieces to inspire you!
1.  Savona Hooded Floor Lamp, Vaughan Designs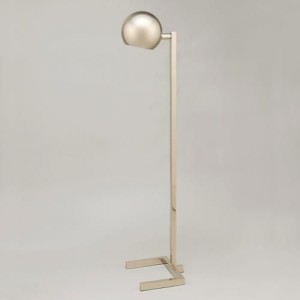 I love this mod eyeball piece from Vaughan Designs!  The Savona Hooded Floor Lamp would be perfect behind a chair for some late-night reading.  This floor lamp is made of polished nickel, adding an element of minimalist chic to your space.
2.  Twig Floor Lamp, Porta Romana
Porta Romana was borne of artists yearning to embark on the mission to "captivate, beguile, and bewitch the world with beautiful things".  The Twig Floor Lamp from Porta Romana is definitely a captivating piece, which would make for a charming addition to any space!  This naturalistic piece is made of forged steel, complete with a burnished gold finish.
3.  Ribbon Floor Lamp, Porta Romana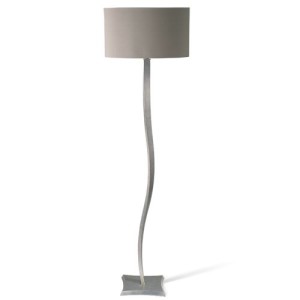 This lamp has such a modern quality!  Porta Romana's Ribbon Floor Lamp's serpentine shape adds an undulating component, which well definitely cause a ripple effect in your interior design.
4.  Iron and Quartz Floor Lamp, Paul Ferrante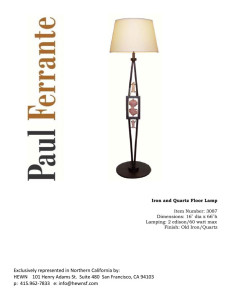 Designed by Paul Ferrante, this Iron and Quartz Floor Lamp is exclusively represented in Northern California by HEWN.  Chunks of quarts give this lamp an organic yet masculine feel.
5.  Osborne Floor Lamp, Paul Ferrante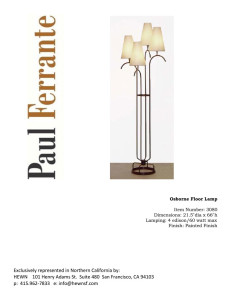 The Osborne Floor Lamp from Paul Ferrante is the perfect blend of antique and modern!  Complete with a painted finish, this floor lamp features four separate light sources for a unique lighting effect.
6.  Bambolero Floor Lamp, Reborn Antiques and Reproductions
Since 1996, Reborn Antiques and Reproductions has showcased the most stately pieces.  I love the beautiful twigs and gilt-edged shade on this Bambolero Floor Lamp; I would put it in a really elegant living room!