On my recent trip to Barcelona, Spain, I was inspired by Antoni Gaudi's beautiful, organic hardware.  Hardware can take a great piece of furniture to the next level.  Whether you are restoring an antique hutch or chest, or adding a new element to a modern piece, hardware makes all the difference.  These additions are some of my favorite picks!
1. Waterworks Martini Round Knob, Waterworks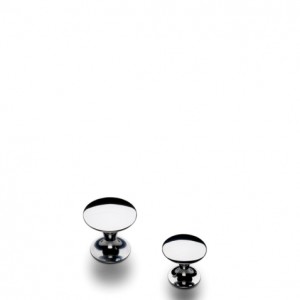 These round knobs come in two different sizes, and are made of brass.  The Waterworks Collection is based on modern elements, for a sleek and polished design.  Waterworks' Martini Round Knobs are ideal for refreshing a modern piece of furniture, they are classic and still luxurious.
2.  No. 8808, The Nanz Company
Located in New York, New York, The Nanz Company crafts hardware that will catch your eye.  Each hardware design is available in an array of plated and patinated finishes to perfectly suit your project.  Seemingly simple, this piece is based on the cubist movement, perfect for tying in an artistic vibe.
3.  No. 6084, The Nanz Company
Minimalist and rectilinear, The Nanz Company's No. 6084 drawer pull is sleek and chic.  Emphasize your less-is-more decor with this barely-there addition, perfect for modern and transitional interior themes.
4.  Agate Cabinet Set in Light Gray, West Elm
Though West Elm's Agate Cabinet Set in Light Gray is no longer in stock, the organic glamour inspiration lives on!  Each sliced and polished set is unique and can really personalize your piece of cabinetry. These organic structures show how varied and interesting hardware can be!
5.  No. 1022, The Nanz Company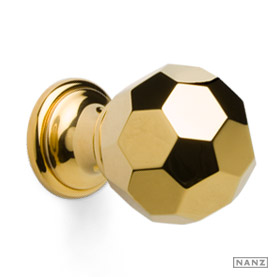 This knob from the Nanz Company would glamorize and perfectly update cabinetry or furniture!  Designed in Soho, this knob works as both a functional and decorative addition.
6.  No. 6561, The Nanz Company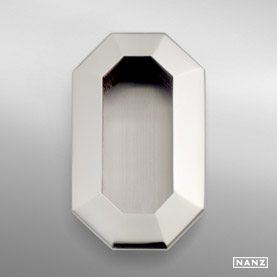 Simply elegant and with timeless appeal.  This keyhole cutout piece is perfect to give your sliding doors an updgrade. Also available as a thumbtum or keyhole cutout, The Nanz Company ensures that their piece is easy to work into your decor.