Adding accents to your interiors is a great way to keep things fresh!  Does your kitchen design need a pop of color?  Do you want to tone it down for a sleek, minimalist vibe?  Selecting a new collection of plates is a great way to liven up your design; here is some of my favorite dinnerware inspiration.
A Splash of Color
Introduce a splash of color (literally, a splash of watercolor glaze) to your dinnerware with these beautiful plates from Suite One Studio!  The shiny gold rims add a touch of elegance to the otherwise bohemian pieces.
Add to the collection with . . .
Similar to the Suite One Studio plates, is the Canyon Series Glacier Hand Painted Porcelain via redravenstudios on Etsy!  Adding a few of these plates to your Suite One Studios collection will add intrigue and really make your dinnerware unique!
Chic Antique
Is your dinnerware openly displayed in your kitchen?  Add instant sophistication with these Antique Handpainted Limoges Gilt Floral Cabinet Plates from French Garden House!
Colorful Basics
If you already have beautiful, ornate plates, mix things up with colorful basics!  The Fiestaware Collection from Dinnerware USA are my everyday plates!
Off-White Basics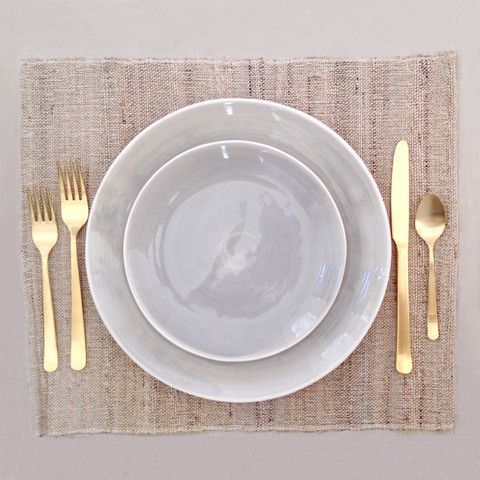 If bright basics are just too colorful for you, consider incorporating off-white plates into your dinnerware!  I love these grey plates from Greta Bean!
For more dinnerware inspiration visit my "Beautiful Plates" Pinterest board here.