Lanterns are a great lighting option when searching for alternative light fixtures!  From fun paper lanterns adorning your backyard patio party to elegant brass and glass lanterns in your kitchen, my favorite candle-lit lanterns are versatile!  Which of these chic and creative designs will you try?
A Romantic Kitchen
Swap harsh bright lights out for romantic lantern light fixtures!  Need a bit more lighting during after hours?  A dimming-switch will allow you to control how bright you would like your room!  I love how all of the elements of this room tie together to create a soft, retreat-like feel.
Sunroom Lanterns
Give your sunroom lighting that will reflect and sparkle!  I imagine these beautiful lavender lanterns cast amazing amethyst prisms on the wall as the light changes during the day.  I would love to enjoy a warm cup of tea by candlelight in this room at night.
 By the Fireplace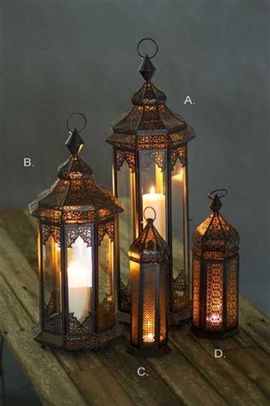 Organize a vignette of lanterns by your fireplace to give your room a sultry, warm tone!  I love these beautiful Moroccan lanterns from Mothology!  The staggered heights create visual intrigue, adding a new element to your room!
Bright Summer Nights
Brighten up your summer nights with these chic paper Chinese Lanterns.  We have had ours for three years and never take them in during the winter; an ideal investment?  Absolutely!
For more ways to style lanterns, view my Pinterest board here!