I recently took a trip with my friend Jill Heller to East Hampton, New York to visit the Leiber Museum.  As an interior designer, I am always looking for new means of inspiration, and Jill is as well.  Jill is the eco fashion stylist for The Pure Thread.  I have shopped at The Pure Thread for three years, and love their eco-friendly, elegant and versatile pieces!  The Pure Thread will host their next pop-up shop at the Bedford Historical Society from Monday, October 20th through Sunday, October 26th!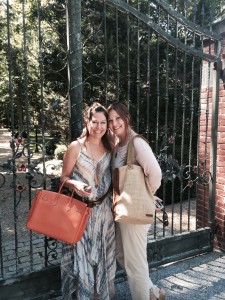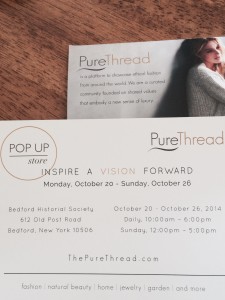 Three times a week, the Leiber Museum showcases the masterpieces created by Judith as well as her husband, Gerson Leiber.
About the Museum
In 2005, Judith and Gerson Leiber decided to house and share their creations in an accessible way, thus the Leiber Collection was born.  Bright and bold, both Judith and Gerson Leiber's work stands out with a tongue-in-cheek quirk.  Judith Leiber's handbags and clutches are some of the most luxurious and quirky wearable art.  I love this fish-shaped purse that was on display!
The Bag Lady of Park Avenue
Judith Leiber's journey did not start with handbags in mind.  Initially, Leiber was set on pursuing a career in cosmetology, but was pushed off course by World War II.  A young Jewish woman living in Budapest had limited options, and Judith seemed to choose the right one when she took an apprenticeship at a high-end handbag factory.  Judith and her husband moved to America shortly after the end of the war, and in 1963 she began her own company.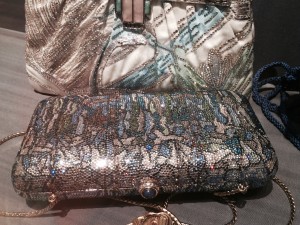 Jill and I had a marvelous time perusing the Leiber Museum!  Each of us took different aspects of design from the bright and beautiful paintings and embellished handbags.
An Eye for Art 
Judith's husband Gerson was a huge supporter of Judith's work.  Having shown promise artistically at a young age, Gerson continued to study and create before, throughout, and after World War II. 
The extensive collection of Gerson Leiber includes sculptures, watercolor & gouache, printmaking, oil painting and much more.  Like his wife, Gerson's style is distinct, and one wonders how lavish and extraordinary it would be to dine with the Leibers (wearing a Judith Leiber clutch, across from a Gerson Leiber painting, of course).