Not to be overlooked, ottomans are both practical and chic!  More than just putting your feet on – these ottomans would be an asset to your rooms.
1.  Thomas Pheasant's Paris Ottomon (Tufted)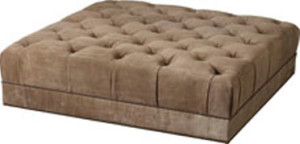 This ottoman from the Thomas Pheasant Collection is perfect for a Hollywood Modern or Transitional Traditional themed interior.  I love the deep tufts and large size.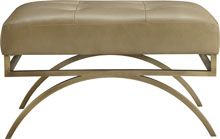 Both architectural and sculptural, Barbara Barry's Arc Bench is sleek and modern.  Designed by Barbara Barry, the Arc Bench features a firmly upholstered cushion placed atop a modern metal arc.  I would love two of these at the end of a bed!
3.  Bunny Williams Home's Tray Chic Ottoman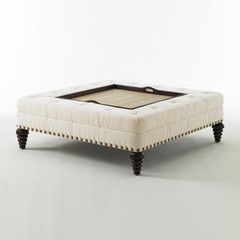 This piece doubles as a stylish addition to the room while the tray easily handles snacks!  This piece is fabulous for a relaxed family room, and has elegant details that will draw the eye.  The carved turned wood feet, removable tray, and embossed faux shagreen patterned interior make this a piece you will treasure!
4.  Restoration Hardware's Tufted Leather Coffee Ottoman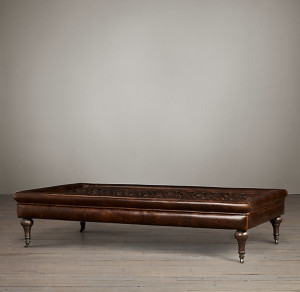 Restoration Hardware's Tufted Leather Coffee Ottoman is perfect for a large family room.  With six leather options for you to choose from, this piece works itself easily into your design and lifestyle!
5.  Mecox Gardens' Turquoise and Cream Tufted Pouf Ottoman
This stylish ottoman brings an exotic note to a room decor- it can be found at Mecox Gardens!  Mixed fabrics of both Turquoise linen blend and cream linen blend are incorporated in this limited edition piece.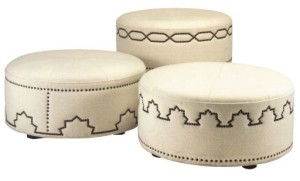 These ottomans lend an air of Tangier and are sure to be a focal point!  The specialty nail pattern is created with Antique Bronze Nailheads; how chic!
7.  Global Views' Moroccan Poof-Black Leather Ottoman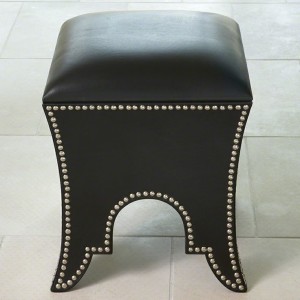 This playful ottoman includes storage and can easily move about the room- I usually group two underneath a console.