Create the perfect outdoor area for entertaining this summer with a romantic pergola!  A pergola is an archway in a garden or park consisting of a framework covered with trained climbing or trailing plants.  Pergolas are a beautiful way to tie your garden into your outdoor lounge area; here are some beautiful romantic pergolas to inspire your design!
Outdoor Living
Once your outdoor lounge area is perfectly cultivated, it's going to be your new favorite place!  While the pergola isn't the main focus of this design, it helps to create a room-like enclosure for a more personal space.  I love the assemblage of potted plants and the overhead vines looping through the pergola.
Plan Ahead
Place your pergola with your gardening ideas in mind!  Create other-worldly romanticism by selecting a plant such as Wisteria which will act as a light drapery over your pergola.  The dark wood finish of the pergola planks allow the flowers to take center stage.
The Shaded Pergola
Does your backyard offer a shaded refuge?  This creative custom pergola design is a fabulous (and smart) way to lounge without the sun glare.  The string lights which are woven through the pergola are a genius way to take your outdoor party from day to night!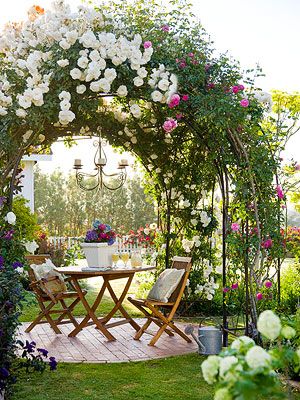 Explore my "Gazebos and Pergolas" Pinterest board here, and share your favorites with me on Twitter here.