My inspiration for this room design was this French water color I found at a tag sale!  The colors are so gorgeous, muted greens, smoke, taupes; it has a quiet beauty.
Once I framed it with a  dark mat and silver leafed frame I began thinking about a room designed around these colors: neutrals with a snap of Chartruese.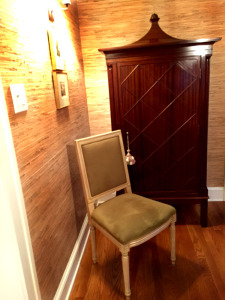 Chartruese – has always been a color I revisit and am drawn to!
I just purchased this fabulous Byron Lars coat with chartruese flowers and paired it with my new ray bans, which were a gift from my brother!  Wearing them with my Byron Lars coat, they have a chic edgy feel!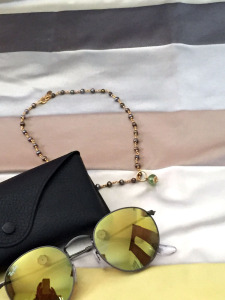 Of course there's also my beloved Reinstein Ross brown pearl and Peridot drop necklace; a birthday gift from my husband, which I treasure and have worn often over the years!
Back to my room design!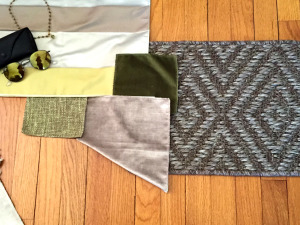 I love this fabulous diamond jute  rug; it fits into both modern and traditional, casual or glam rooms.  The dark cocoa is a nice update; the sofa in the beautiful deep velvet  green and the chairs in that soft taupe.  Horizontal stripes liven up a room and create a more modern look for the window treatments.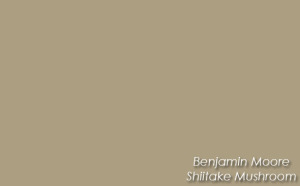 To complete the look I'd paint the room in Benjamin Moore's Shiitake,
an enveloping mushroom color.