If you think stone in design stops at your kitchen counter, these designs are going to take your renovation inspiration to a new level of chic.  Here are 5 ways to work stone tables into your new interior design.
Minimalist Kitchen Design
Eliminate the bulk of a wooden table and clunky chairs with a minimalist kitchen design.  This concrete countertop is spacious, without being overwhelming.  The raw edge of the table gives texture to an otherwise sleek room design.
Outdoor Living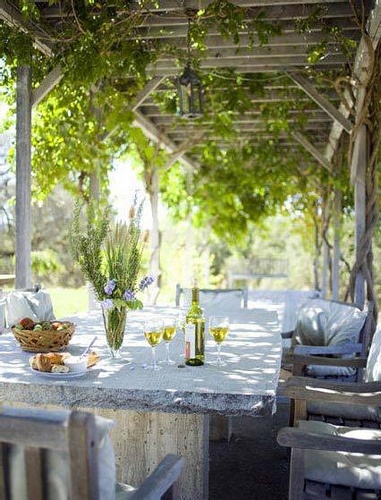 Elevate your outdoor living with a stone table!  The leafy overhead is a soft and romantic juxtaposition for concrete outdoor tables.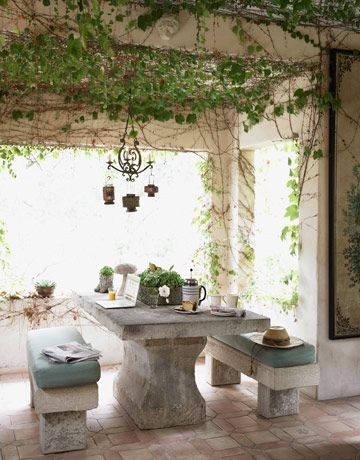 Here is another example of a beautiful concrete outdoor table; the patina finish on this stone table adds a weathered tone.  A bouquet of fresh wildflowers and a fresh outdoor picnic would be perfect here!
Modern Living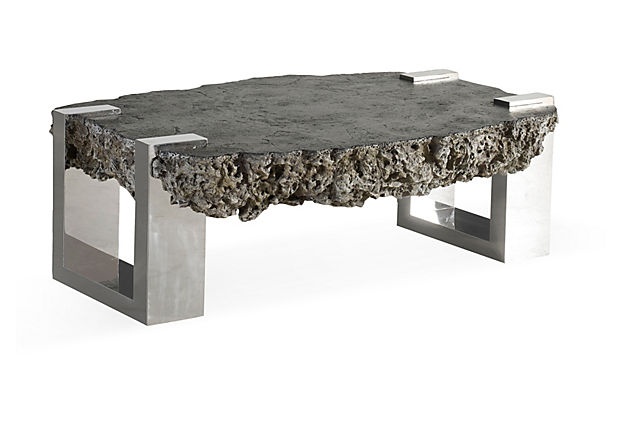 If you're like me, adding a functional art piece to a room is necessary.  This Donovan Lava Stone Table from One King's Lane is so cool and bound to be a conversation piece!
The Romantic Garden
I love the idea of a stone table and bench by the garden.  It beckons you to sort out your seeds (or nibble on freshly-picked fruit depending on the season).  A stone table is the perfect finish for your romantic garden.