Is your closet feeling a bit cluttered or lackluster?  Get organized with these stylish closets!  Which design elements will you take to re-vamp your closet for a more organized and elegant look?
Bright & Stylish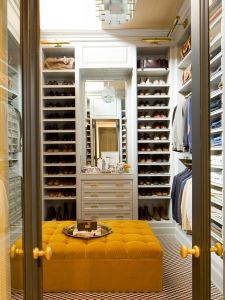 Interior designer Nate Berkus' closet is nothing less than amazing!  Key elements of this design include the pop of invigorating yellow seating which ties into the gold doorknobs.  The easily accessible compartments make pairing items for an outfit a breeze!
Functional & Fashionable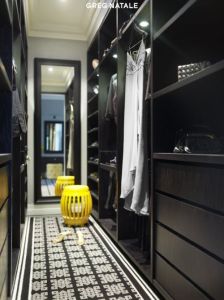 This functional and fashionable closet is gender-neutral and features key elements for a walk-in closet!  When designing your walk-in closet, energy-efficient halogen lights and a full length mirror are vital.  Keeping your closet looking sleek with black storage is a great idea as well!
The L. A. Closet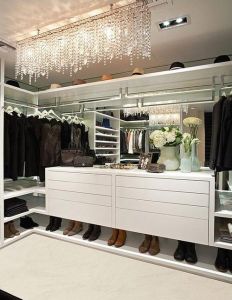 East coast girls will agree that this L. A. closet design is a dream.  From the glamorous chandelier-inspired light fixture to the fresh cut flowers and various mirrors, this closet beckons you to play dress up.
Tip:  Additional mirrors make a small room appear larger.
The No-Stress Closet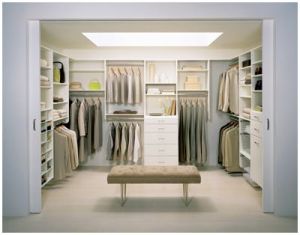 This no-stress closet design is ideal for a customer who has a fast-paced work environment or a bustling lifestyle.  The direct minimalistic approach to this organized area creates an easy-going vibe that is no frills while still maintaining sophistication.
The Wardrobe Room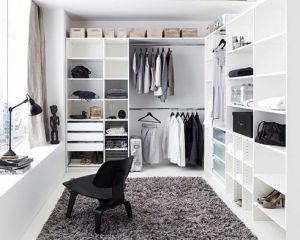 The Wardrobe Room is a business-ready approach to closet organization.  This working space features shelves for simple storage while leaving room for storage boxes on top.  Note the different sized shelving which makes organizing purses, shoes, accessories and other items easy.
The Shoe Lover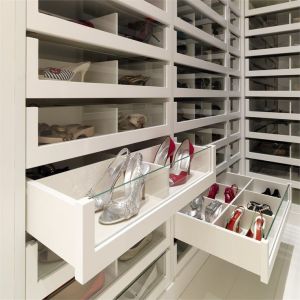 Love your shoe collection?  Admire them even when you are not wearing them!  This closet keeps shoes as the focal point with glass drawers that showcase the item inside.  Your Louboutins will love their new showcase (and so will you)!
The Dressing Room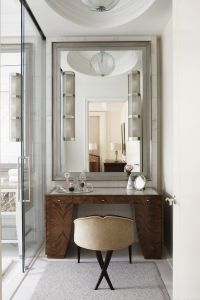 I love the idea of adding a dressing room to your bathroom area!  Create an elegant mini-powder room for primping and prepping.  Note the key elements in this room are pieces that accentuate the space without seeming overbearing.
My Dream Closet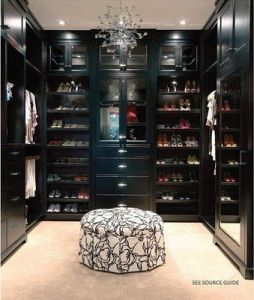 Last but not least, I give you my dream closet!  From the light fixture to the black and white patterned ottoman, I love this entire room!