Whether you're celebrating a graduation, hosting a beautiful summer engagement party, or gathering close friends for cocktails, warm weather beckons summer outdoor parties.  Are you willing to get a little crafty?  Then you're going to love these summer outdoor party design ideas!
Garden Party
Take a cue from your blooming garden and tie in fun floral decor!  These floral chandeliers are perfect for a beautiful bride-to-be's engagement party, or a garden party with the girls!
Whimsical Wonderland
Create an ethereal environment for all ages with this easy DIY!  Using fishing wire or clear string, tie strands of bright blossoms to create a curtain of flowers.  Guests will love posing to take perfect photos in front of your gorgeous backdrop!
All That Glitters 
All that glitters is actually gold with this fun DIY!  Break out the gold paint and brushes to give your outdoor summer party the Midas touch!  Metallic accessories with crisp white linens are always classic and chic!
Tiki Chic
Tiki-lights and torches are the ultimate summer outdoor party accessory.  I love the idea of creating a vignette of tiki lights (please do not place torches together, as fire is likely to break up your party)!  Note that the designer highlighted their beautiful flowers!
Magical String Lights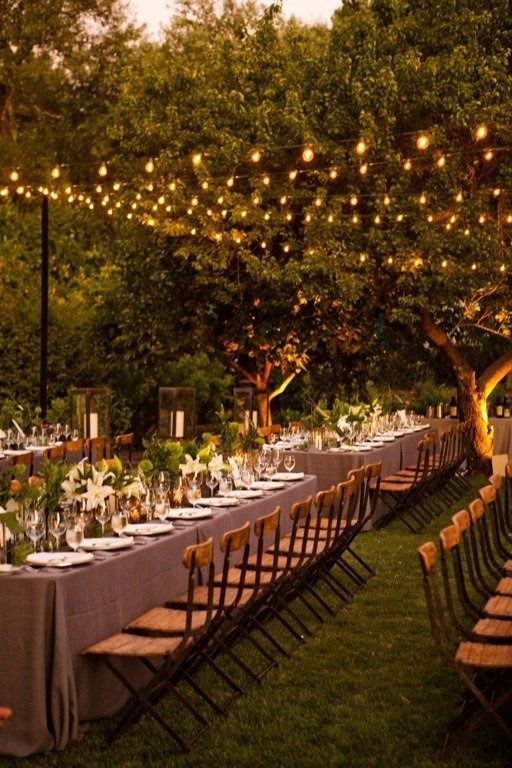 Create a romantic ambiance with string lights!  This decor is ideal for a warm night celebrating friends, family and great accomplishments!  When shopping for string lights, I found a variety of bulb shapes, including stars.  How beautiful!