2015's interior design trends were sleek and minimal, mimicking high fashion's nod to less is more.  Now it seems as though minimalism has taught us to be more selective with what we choose to be haughty about for 2016.  Give your accent wall an update with a luxe decorative finish, the new faux for walls.
Gold Rush:  Faux Gold Walls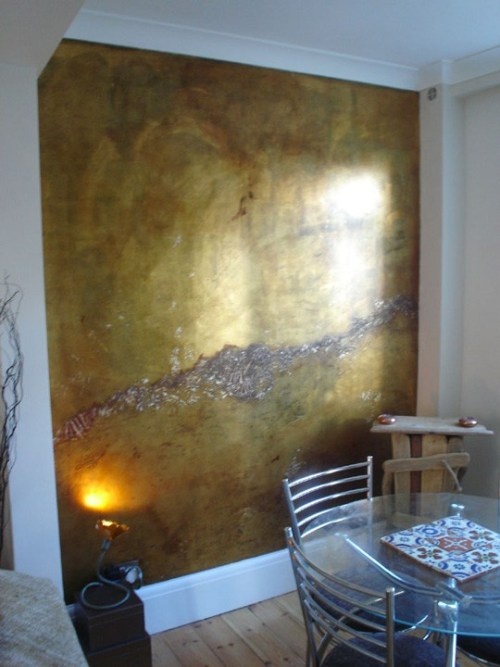 Metallic accents are ever present in interior design, though the way they are used varies through the decades.  Keep your interior sleek and on-trend with metallic walls.  Because decorative finishes are meant to be customized, selecting gleaming (or burnished) rose gold, bronze, silver leaf or gold walls is up to you!
Old World Romanticism Meets Modern Art
Give your loft a touch of the old and a twist of the new with old world-inspired walls featuring a bright bursts of color!  I love the texture of old world style walls juxtaposed with acidic yellows and deep plums.
I love this decorative finish featuring plaster over metallic foil.  How beautiful would this look as an accent wall above a fireplace!
A pop of color and silver leaf also makes for a gorgeous faux finish!  Though the decorative finish may seem extreme up close, remember that the architecture of the home as well as furniture selection can take the edge off, leaving you with more elegance than artistic exuberance.