The Westchester Residence II Project was inspired loosely by the French 1940's with a modern twist.  The house is a Tudor from the 1920's owned by a family with three children.  The design goal was to incorporate color while staying true to the Tudor fashion.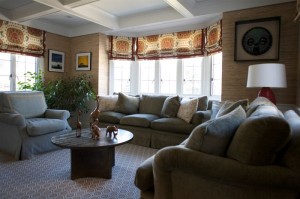 Downstairs, the media room is both fabulous and family-friendly- perfect for movie night!  Westchester Home Magazine 2013 granted me the "Best Media Room" award for this room!  The pop of color is bright and refreshing, and the color-blocked walls adds intrigue to the space.
The dining room features a hand-blown Murano glass light fixture from Van Den Akker Antiques.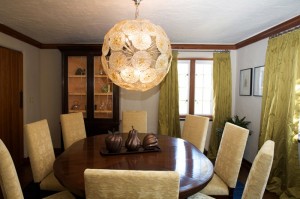 Also from Van Den Akker Antiques are the amethyst lamps, imported from Belgium.  These raw geodes are just beautiful, incorporating texture and color!  Van Den Akker never lets me down when I am shopping for a unique vintage piece.  Each item in Van Den Akker's collection is hand-selected from collections of distinguished artists across Europe; I love it!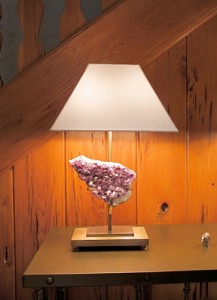 This fluffy stool from John Rosselli & Associates is a fun accessory for the room.  John Rosselli & Associates always feature such lovely pieces and the timeless sense of design just can't be overlooked.  Aiming to incorporate a piece with a French 1940's touch, I added this Line Vautrin "Roy de Soleil" Mirror- it was the perfect touch!