When searching for a new home, the amount of light radiating throughout each room plays a key factor.  Windows and light play a large part in how invigorating your design is to your lifestyle.  Update your room with these inspiring window treatment styles!
Kitchen Window Treatment Styles
This kitchen is refreshing and quaint!  Plenty of kitchen designs feature a window above the sink area , ideal for looking out into a beautifully landscaped yard or blossoming garden!  This design seamlessly transitions from day to night with a scalloped window treatment that can be drawn to let light in, or dropped to let the sconces on each side of the window light the way!
Sliding Glass Door Window Treatments
Custom shutters for covering sliding glass doors is a wonderful window treatment design!  I love how there are great options other than drapes or vertical blinds.
Living Room Window Treatments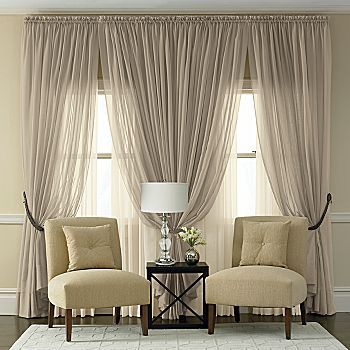 Give your living room a new ambiance, simply by refreshing your window treatments!  To give your room a more romantic aesthetic, soften your window treatments with sheer curtains.  Gather the curtains for different looks.
To give your living room a more structured feel, try this window treatment look!
For more window treatment inspiration, view my Window Treatments Pinterest board here.